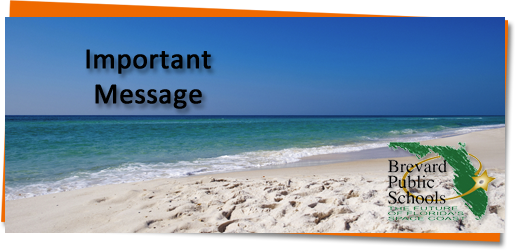 A message From Brevard County Public Schools
Regional Bussing Update
Dear BPS Families,
Yesterday, the Superintendent presented the district budget for the 2020-21 school year to the school board which included spending cuts to address the nearly $13 million deficit caused by a significant Florida retirement adjustment required by the state, declining enrollment, and rising healthcare costs. The necessary cuts include the elimination of regional busing to student choice schools and programs, as well as significant department budget cuts and over 100 staff position reductions.
The decision to end regional busing goes beyond the financial need. It is also one of operational necessity given the reality that we will need our entire fleet of buses to meet COVID-19 health and safety requirements when our students return to school in August.
We are greatly disappointed that we are no longer able to provide regional busing for our students as a valued service to our choice families. This was not a direction the district took lightly, but current budgetary and operational challenges required difficult but necessary decisions.
We recognize families may need to make adjustments and the Office of School Choice is prepared and available to provide assistance. We will do everything we can to work with parents as they navigate the challenges this decision presents.
Thank you for your understanding.

General Information
Welcome to the Online Application system for Brevard Public Schools. Open Enrollment is more than a philosophy — it's the programs and tools of a 21st century education that prepares students for success in a rapidly-changing and complex world.
All requests will be checked for accuracy. Any falsification of information may result in your request not being processed.
Please Note:
Students who wish to attend a school other than their zoned school of attendance must submit and online application and a $30 non-refundable application fee.

Transportation is NOT provided for ELO

The student must abide by the attendance/behavior contract.

There is NO guarantee of approval. Some schools are frozen to incoming students.

You will receive emails from scribonline@scribsoft.com to notify you of the status of your order. It is important you read those emails carefully as additional information may be required to process your request.
*Please also note that this website is optimized for IE 9.0 and higher, Safari, Chrome and Firefox.
Available for 2021-2022 School Year
Information for Open Enrollment Applications:
Note: This is an official application. The information contained on this online application should be considered private.
---
For More Information, Contact:
Brevard Public SchoolsLeading and Learning - Open Enrollment2700 Judge Fran Jamieson Way
Viera, FL 32940
Phone: 321-633-1000 x11395
For Technical Support or Payment Issues, Contact:
Scribbles Software
Email: help@scribsoft.com
Phone: 855-465-1458
---
Business Hours
Monday - Friday
8:00 AM - 4:00 PM