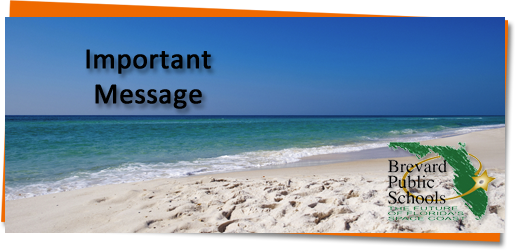 General Information
Welcome to the Online Application system for Brevard Public Schools. Open Enrollment is more than a philosophy — it's the programs and tools of a 21st-century education that prepares students for success in a rapidly changing and complex world.
All requests will be checked for accuracy. Any falsification of information may result in your request not being processed.
Please Note:
Students who wish to attend a school other than their zoned school of attendance must submit an online application and a $30 non-refundable application fee.

Transportation is NOT provided.

The student must abide by the attendance/behavior contract.

There is NO guarantee of approval. Some schools are frozen to incoming students.

You will receive emails from scribonline@scribsoft.com to notify you of the status of your order. It is important you read those emails carefully as additional information may be required to process your request.
*Please also note that this website is optimized for IE 9.0 and higher, Safari, Chrome, and Firefox.
How-To Videos:
Available for 2024-2025 School Year
Available for 2023-2024 School Year
Information for Open Enrollment Applications:
Note: This is an official application. The information contained on this online application should be considered private.
---
For More Information, Contact:

School
Brevard Public Schools
2700 Judge Fran Jamieson Way
Viera, Florida 32940
Phone: 321-633-1000, extension 11395
---
Business Hours
Monday - Friday
8:00 AM - 4:00 PM